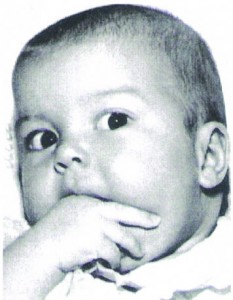 CHILDHOOD
When  was in the grammar school, my mother taught at an inner city school. My siblings and I were the only white children in an all black and Puerto Rican school. We lived in the country so every morning my mother made the long trek into Buffalo. We drove through the country, the small towns, the suburbs, downtown Buffalo, and the inner city.
The contrast between the fresh open air of the country where we lived and all the subsequent communities we passed through, to arrive at a school where the children were the poorest of the poor, wearing cotton jackets and no socks in the dead of winter, and where rats made their nests in the trash cans at night, fed my curiosity and touched my heart.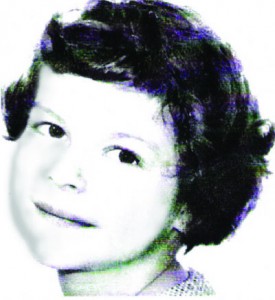 The household I grew up was very stressed as well. I remember making a conscious decision at that age to set my face in a way that would bring peaceful feelings to others. It amazes me now, that even at that tender age, I was very aware of the visual, sensual, and emotional impact of environments and the impact of my own and other people's faces.
ADOLESCENCE 
At thirteen, I began babysitting. One day as I was riding my bike down the road I heard the baby I watched crying, screaming in his house while his father worked outside. Alarmed, I asked his father why he was crying. His father told me that his baby was alone in the house – and would I go check on him? I ran inside and saw baby Tony hysterical, tear-streaked, and with feces covering him from head to toe. I confronted his father Frank when he came inside – why did he leave him alone and why wasn't his diaper changed? Frank sneered at me, "That's women's work." I told him that was ridiculous. Then, mocking me, Frank snickered, "I'd rather see a "n_ _ _ _ _" in the white house than a woman!"
It was the first time I had heard someone speak with such scorn for black people – but I was even more shocked to learn that a person's gender, my gender, as a female, could be the impetus for such contempt.
At age fifteen I started dating a sweet boy whom I had known since we were both eleven. We dated through high school and most of college and planned to marry. Then in the summer of 1976, the bicente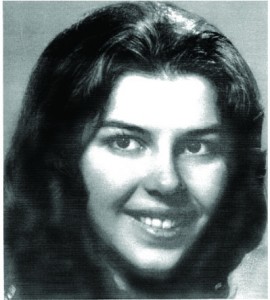 nnial for the country, he revealed to me that he was gay. I became more aware of the layers that people live, and the "masks" we all wear to one degree or another, to survive and function in society."
COLLEGE
In college I started drawing diagrams and sketches in my sketchbook, trying to develop a way to visually express the concepts I was exploring. In the midst of my sketching, images of masks kept emerging. My thinking led me to consider the use of actual masks.
ADULT: ART & CAREER
My youthful and later experiences provided the basis for my Faces in the Crowd Diversity and Violence Prevention tool and program. I actually came up with the idea for this when I was only about 21 years old. I knew it was a good idea, so I going back to it again and again, developing and refining it for almost twenty years, before I figured out how I could do it.
I presented workshops to hundreds of different groups across the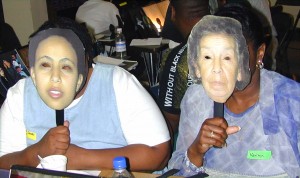 country. I received a patent and the endorsement of Arun Gandhi, grandson of M.K. Gandhi, for my Faces in the Crowd program. The M.K. Gandhi Institute for Nonviolence adopted my program and invited me to present it for several years.
I presented many community programs and invented a multitude of other tools and programs, for all ages and dealing with a wide range of issues including family dynamics, conflict resolution, child sexual abuse, workplace communication and more.
In my career, I have held a variety of interesting and challenging positions in the arts, education and as a program service provider. All these positions  contributed, in one way or the other, to my development.
For the past few years, I have focused on documentary photography and traditional arts and folk arts. I am especially interested in how these traditional art forms connect individuals and groups to their own history and identity, and how masks, puppets, and other art forms achieve therapeutic and healing for individuals and communities. As a folklorist, I study and celebrate the art forms, traditons, and folklore of many cultures.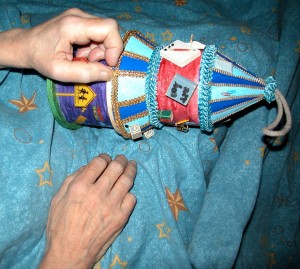 These days, I am honored to work with Hospice of Chautauqua County, NY, as an Art Facilitator for their Art Enrichment Program. I am learning that death can be a beautiful and natural process, and that people can live fully and well to their last breath. Because of this special work, I appreciate my own life more by understanding the impermanence of everything. I am incorporating these contemplations into my current art and work as a Art Facilitator and Consultant.