American Quilting
 The earliest recorded American quilt was made by Sarah Sedgwick Leverett in 1704. The oldest surviving North American quilt is dated 1726. Early American quilts were made from one cloth or wide columns of alternating fabric. These quilts were luxury items, as all cloth was shipped from Europe at great cost. Because most colonial women were too busy cooking, cleaning, spinning and tending to their large families, only women who could afford household help had time to quilt. These women used techniques they brought from their homelands inEurope.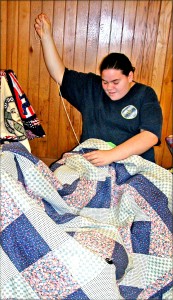 After the war of 1812, trade resumed with England and printed fabric became available and affordable. Patchwork quilts became widespread, as whole cloth quilts had as well. Except for just a handful of special occasion quilts, few early American examples survive. By 1840 the textile industry boomed and most families could afford to buy cloth. Sometimes small groups of women gathered in "quilting bees," but most "bees" consisted of a neighbor dropping in to help a friend finish her quilt.
The Amish, a religious group who migrated toAmericain the 1800's, learned quilting from their neighbors in the new land. Though they didn't begin making quilts until around 1870, within a few years, quilting became a common Amish practice. Since they believe in a simple life without modern machines, the Amish make their quilts with treadle sewing machines and hand sewing, even today. Traditional Amish quilts have borders, two or three deep hued fabrics (such as black, mauve, and blue), and use scraps from clothes and recycled fabrics. They do not use printed fabric for personal use. During the Civil War, over 250 quilts and comforts were made for Union soldiers. Because of the blockades, fabric was scarce in the south, and fewer Secession quilts were made. Scholars of the Underground Railroad have shown that the idea that quilts were made with special designs to guide escaped slaves to freedom is a myth.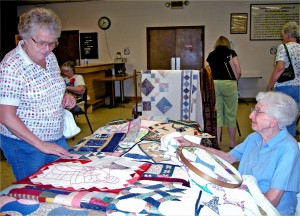 When the 1876 Philadelphia Centennial Exposition featured crazed ceramics and asymmetrical art of Japan, women wanted this new look in their quilts. Victorian women sewed "Crazy" quilts with different fabrics such as velvet, silk, and brocade, cut into random shapes and held together with decorative stitches. Magazines promoted the "craze" with embroidery patterns and women had "crazy tea parties" with mismatched invitations and decorations. The American Victorian era lased until around 1914.
The booming twenties magazines romanticized colonial times and quilting became popular again. People searched their attics and trunks for colonial quilts, but most found were only from the mid-19th century. Quilts were a creative outlet for women of the Depression. They used whatever material was on hand.
World War II was a period when people focused more on the war, and less on activities like quilting. Quilt-like blue banners were hung in windows to show that the family had someone in the service. A star sewn onto the banner signaled that a soldier from the family had lost his life.
After the war, many quilters made heavy wool quilts for destitute European survivors of the war. However, quilting was now seen as something poor people did because they couldn't afford modern bed covers. Since sewing clothes at home declined, there was less scrap fabric around. Women who still quilted started buying fabric to make their quilts. Country folk still quilted and showed their quilts in local and state fairs. Few new styles emerged until the 1970's when art quilts and other styles came into vogue.
The Bicentennial of theU.S.A.in 1976 started a renewed interest in quilting. More recently, quilts have been made for various causes: the giant AIDS Memorial Quilt first displayed in 1987; Gulf War Quilts in 1991; and quilts commemorating the 9-11 tragedy of 2001.
Quilting History
The fragility of fabric makes it vulnerable to disintegration, whether from human hands, pollutants, wear and tear, or accidents like fire and flood. Few ancient quilting examples survive. The earliest sign, an Egyptian ivory carving of a pharaoh wearing what appears to be a quilted cloak or mantle, is dated in the 35th century B.C. The oldest actual surviving patchwork is a dyed canopy quilt, decorated with symbols, and made of gazelle leather rectangles sewn together. The quilt was used in celebrations by an Egyptian queen about 980 B.C.
In India, altar hangings (6th to the 9th century B.C.) of patterned rectangular pieces sewn in patchwork style were found in the Cave of a Thousand Buddha's. Travelers tore off pieces of their own clothing for votive offerings.   
The appliquéd saddle bags of Altai Mountaintribal chiefs from the 6th to the 4th century B.C. were found in Central Asia. A carpet created between the 1st and 2nd century A.D. was found on the old Silk Road near Lake Baikal in Russia. A quilted slipper from the 8th century was also found near the Sino-Russian border.
During the 11th century, soldiers wore quilted padding for armor. This practice evolved and the quilted padding was later worn under chain and plate armor. Ornamental quilting probably began in the Near East orChina and spread along the trade routes established by Marco Polo and others.
 The 14th century experienced unprecedented bitter cold winters. Quilted garments became common. Quilted bed furnishings, including curtains, canopies, pillows, and coverings were stuffed with lambs wool, feathers, moss and even grass. Caps, gloves and shoes were quilted with ornamental scrolls. The quilt frame came into use at this time. By the 15th century, women wore quilted petticoats for warmth. The trade from the east brought new fabrics, including Persian silk, lusting, taffeta and satin. French women applied appliquéd ornaments with varied colored satins and velvets to their quilted creations. Cotton did not come into common use until the end of the 18th century.
 Types of Quilts
Album quilt – assembled from individual blocks made and signed by different people, often to commemorate a special occasion. Baltimore Album quilts displayed floral motifs, patriotic images and fine needlework.
Amish – created by Amish, with geometric patterns, solid colored deep-hued fabrics, and often heavy quilting, scrolls and cables. Abstract shapes and solid colors. "Lone Star" and "Pennsylvania Dutch Lily" are two types. Quilts made for home use are often just a couple colors with no prints, while ones with prints are made for sale to the public.
Appliqué – A French term, signifying the sewing of one textile over another, derived from the Latin appliquer, to put on. The sewing of smaller pieces of fabric to a ground fabric so that it forms a pattern.
 Art quilts – grew out of the 1970's after the 1960's quilting revival. Quilter expresses his or her own personal experiences or vision with fabric and color. Often displayed on walls.
 Bargello quilt – made of offset colored squares in rising and falling wavelike pattern, usually with strip piecing.
Broderie Perse – floral pieces were cut from printed fabrics and appliquéd to a plain background.
 Calimanco quilts – popular during the early eighteenth century, used finer wool fabric which was rubbed with a stone until shiny.
 Charm quilt – made of same sized or shaped blocks of all different fabrics, popular for fabric swaps.
 Corded quilt – believed to have originated inItaly, and is therefore sometimes referred to as Italian quilting; To emphasize motifs, a cord is inserted between a channel of two lines of stitching on fabric layers.
 Crazy Quilt – made of irregular shaped pieces or scraps sewn onto a background fabric with decorative stitches or embroidery. Popular in the Victorian age, often made of silks and velvets.
 Embroidered – Victorian era, seam lines embroidered with a wide variety of stitches; many types of fabrics used, cut in random shapes.
 Feed-sack quilt – made from feed-sack pieces
 Friendship quilt – blocks made of signatures of friends and sewn together.
 Hawaiian appliqué quilts – Hawaiian quilters made quilts with large floral solid color pieces, pinapple and leaf patterns stitched onto a white background.
 Linsey-Woolsey quilt – earliest form of quilted bed covers that have survived, made from coarse fabric, dyed with natural indigo dye. Weft was linen thread; warp was wool.
 Log Cabin quilt – traditional quilt, a center block surrounded by "log" blocks.
 Medallion Quilt – a large central block or pattern in the middle
 Mystery quilt – pattern released to quilters, piece by piece, to hid final appearance of quilt.
 Patchwork quilt – any quilt where pieces are combined to form a quilt top.
 Postage Stamp quilt – small quilt with fabric pieces the size of a postage stamp.
 Rag Quilt – quilt made of flannel with raveling, puffy seams left on front.
 Sampler quilt – made with pieced blocks, by individuals or community groups in remembrance of a person.
 Scrap quilt – composed of many leftover fabric scraps
 Tied quilt – held together with thread or yarn drawn through all layers and tied together.
 Traditonal quilts – often made of blocks. Some traditional patterns are "The Flying Geese," "Grandmother's flower garden, "Log Cabin"; "Five patch block"
 Trapunto – traditionally done after a quilt was finished, the quilt back was slashed or fibers teased apart so extra stuffing could be added. Slashes were hand stitched closed or fibers teased back.
 White-work – originated in Europe, became popular in America in early 18th century; usually did not have batting. Featured intricate designs where stipple quilting caused unstitched areas to appear puffed.
 Whole cloth quilts – solid white or solid colored quilts with elaborate, closely quilted designs that bring texture and shadows to the piece. Often flora, feathered, or geometric patterns. Some included ships, animals and people.
 References:
Brackman, Barbara. The Quilt Detective: Clues in the Needlework, 2005, digital newsletter.
Brackman, Barbara. Quilts from the Civil War. Lafayette, CA: C & T Publishing, 1997.
Ducy, Carol. "Quilt History Timeline, Pre-History – 1800" International Quilt Study Center.
Fox, Sandi. "For Purpose and Pleasure: quilting Together in Nineteenth-Century America"
Granick, Eve Wheatcroft. The Amish Quilt. Good Books, 1989.
Gwinner, Schnuppe von, tr. Edward Force. The History of the Patchwork Quilt. Schiffer Books, 1988.
Horton, Laurel (ed.). "Quiltmaking in America: Beyond the Myths"
Levins, Hoag. "New Jersey's Underground Railroad Myth-buster" Historic Camden County.com News.
http://historiccamdencounty.com/ccnews11.shtml
 Lipsett, Linda Otto, "Remember Me: Women and their Friendship Quilts"
 Rothermel, Judy. Reproduction Quilts from the Civil War Period: 1850-1865.North Canton,OH: School House Quilts, 2002.
 Shaw, Robert. "Quilts: A Living Tradition"