GOSPEL MUSIC

The powerful music known as Gospel is a source of cultural pride and identity for many African Americans. Gospel music is characterized by dominant vocals, often with the strong use of harmony, with lyrics of a religious nature, particularly Christian. The songs carry the gospel or "good news" in music. The music may be rock, country, R&B, folk, classical, jazz. The lyrics express Gospel's Christian message.
Gospel music's history is rooted in the chant and response dance circles of West African and the field songs and spirituals of the slaves for the deep South. African elements included the blending of dance and music, the call-response pattern, layered rhythm, improvisation, and voice quality groomed for outdoors.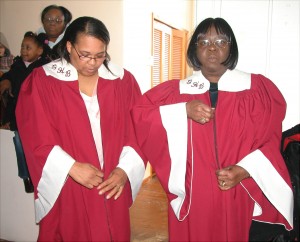 Some spirituals were called "shouts" and accompanied by hand clapping and foot tapping. Aside from the working and singing in the cotton fields, African Americans met in camp meetings and sang without any hymn books. Influenced by the Bible, the spirituals focused on how to live in the Spirit of God.
Slaves working in the fields were allowed to sing work songs. Sometimes their "drivers" allowed them to sing "quiet songs/" Sung by a soloist or several slaves, the "quiet songs" expressed personal feelings or encouraged each other as they worked. At times, secret messages were coded into the spirituals, often relating to an escape to freedom. "Home" might mean heaven or a place where slaves could live free. The spiritual, "Swing low, Sweet Chariot," referred to the Underground Railroad, which helped slaves escape to freedom.
Some hymns were changed by African Americans and called "Dr. Watts." In the early 1800's black ministers took seriously the urging of Dr. Isaac Watts, (an English minister who published several hymn books in 1707). Watts urged ministers to cultivate their gifts of preaching by composing spiritual songs and making song part of their congregation's worship and prayer.
The rural revivals of the 1850's and especially the urban Pentecostal revival movement of the late 19th century gave rise to religious gospel music. Gospel singing differs from spirituals because it requires instrumental accompaniment; is composed (written down); and uses melodic improvisation and text that relates to contemporary issues more than biblical stories. Following the scriptural message to "Let everything that breathes praise the Lord" (Psalms 150), Pentecostal churches allowed pianos, drums, guitars, and timborels in their services.
Between 1865 and 1925, many religious tunes, called church songs or jubilees, were arranged like European classical pieces for choirs and sung by the choir and congregation during a worship service.
Gospel music began to be accepted as a musical practice in the "Sanctified" or "Holiness" churches in the 1920's through the 1940's. Labeled "holy rollers" by other denominations, Holiness churches encouraged members to "testify." This spontaneous speaking or singing about their faith intensified the experience and was thought to invite the presence of the Holy Spirit. A singer's energy inspired "spur of the moment" phrases and singing responses by members of the congregation. Recordings of Pentecostal preachers became very popular among blacks. The extensive vocal range of mostly female choirs contrasted with the preacher's sermon. Some early "sanctified" gospel singers were traveling preachers who merged time-honored religious themes with barrel house, blues, and boogie woogie methods. They also brought jazz instruments, such as drums and horns, into the church.
 Thomas A. Dorsey, a composer for noted "blues" singers such as Tamp Red and Bessie Smith, worked to cultivate and advance Gospel music. After he organized an annual convention for Gospel artists, conservative churches gradually accepted the new music. Dorsey's compositions combined sixteen bar structure and blues rhythm with religious lyrics. Innovative singers such as Sister Rosetta Tharpe, were able to apply their individual talents to his songs. Church members were inspired to "shout," to call out catch phrases or add musical lines of their own to the gospel singer's performance. The changing music was enhanced by a new style of performance that embraced movement and improvisation.
 This freer style affected other black musical styles. In the 1930's, male quartets sang in jubilee style, mixing harmonics, singing, playful syncopation and sophisticated arrangements. Male quartets also sang in a capella style. In the 1940's the quartets turned more to a jubilee style with ad libs and repeated short phrases in the background ot maintain a rhythmic base for the inventions of the lead singer. Gospel became intertwined with blues and jazz. Secular groups such as the Dixie Hummingbirds and Soul Stirrers emerged. Gospel, alive with experimentation and novel approaches, differed from subdued hymns. The music spread through song publishing, concerts, recordings, radio, and television broadcasts of religious services.
In the 1940's and 1950's, some of the composed music was influenced by the Black Renaissance, meaning that the arrangements were influenced by European classical music. During this period, women singers such as Mahalia Jackson and Bessie Griffon achieved fame. Other singers, including Clara Ward, the Caravans and the Davis Sisters sang in small groups. Their robust technique and dramatic personal witness helped to establish themselves.
Mid-20th century, Gospel lyrics focused on praising the Lord, personal improvement, and brotherly community life. Innovative harmony and rhythmic innovation combined with individual virtuoso performance. Songs reflected increased emotional an musical intensity. Inspired by social issues such as segregation, drug use, and the political landscape of the Civil Rights Movement, music of the 1960's included traditional Spirituals, such as "We shall overcome" and songs in which the lyrics were changed to reflect certain events. For instance, "Marching onJericho" was changed to "Marching onSelma." Modern gospel emerged during the period of Martin Luther King Jr.'s leadership, coexisting with historic gospel. Some Gospel songs became more secular. Artists such as Aretha Franklin and James Cleveland attained celebrity.
During this era, mass choirs such as the Mississippi Mass Choir, also came into being. From the 1960's to the present, artists utilized pop and hip hop in Gospel. The lines between sacred and secular blurred more when Tramaine Hawkins released "Fall Down" in 1985, causing gospel music to become more mainstream. By 1994, gospel was registered as the sixth most popular form of music. Local churches continued to enjoy both traditional and contemporary forms. Artists such as BeBE and CeCe Winans and the Family redefined gospel music in the 1980's and 1990's, collaborating with big name artists like Whitney Houston and MC Hammer. Rock, rap, R&B, funk, and other musical forms have also been melded into Gospel. Because of its adaptability to current trends, some suggest that Gospel lyrics exist, but Gospel music does not.
Gospel music is designed to teach, shape morals, and bring the spiritual improvement and instruction of church members and others. The music also attracts the attention of non-believers and move them to embrace the Christian walk. Whether for its spiritual value, social messages, or as moving entertainment, gospel has had a profound effect on the American landscape and is part of our shared heritage.
AFRICAN AMERICAN HISTORY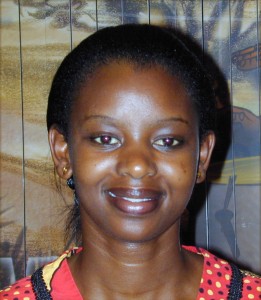 Africans were sold and traded into bondage and shipped to the American South from 1607 until the 19th century. In 1807, slave importation was outlawed, but this law was largely ignored. By 1860, there were 3.5 million slaves in the south and 500 African Americans who lived free across the country. Abolitionism, which opposed slavery, culminated in the 1860 election of Abraham Lincoln, the secession of the Confederate States of America, and the Civil War. The Emancipation Proclamation of 1863 declared all slaves to be free under U.S. law. The 13th Amendment, ratified in 1865, freed the remaining slaves. During Reconstruction African Americans in the south obtained the right to vote and hold public office, but when Reconstruction ended in 187, racial segregation and the denial of civil rights occurred. During the early 2oth century, many African Americans migrated north. A movement to fight violence and discrimination began. The NAACP led a series of legal battles in the 1950's to overturn racial segregation, culminating in the landmark Brown vs. Board of Education decision. As segregation began to crumble, the modern day Civil Rights movement emerged, in the 1960's under leaders such as Dr. Martin Luther King Jr. Other leaders, such as Malcolm X, called for African Americans to embrace black nationalism and self empowerment. The Black church and Gospel Music played a significant role in strengthening and unifying the African American community in their moral focus.